Three Tier Jewel Box Dress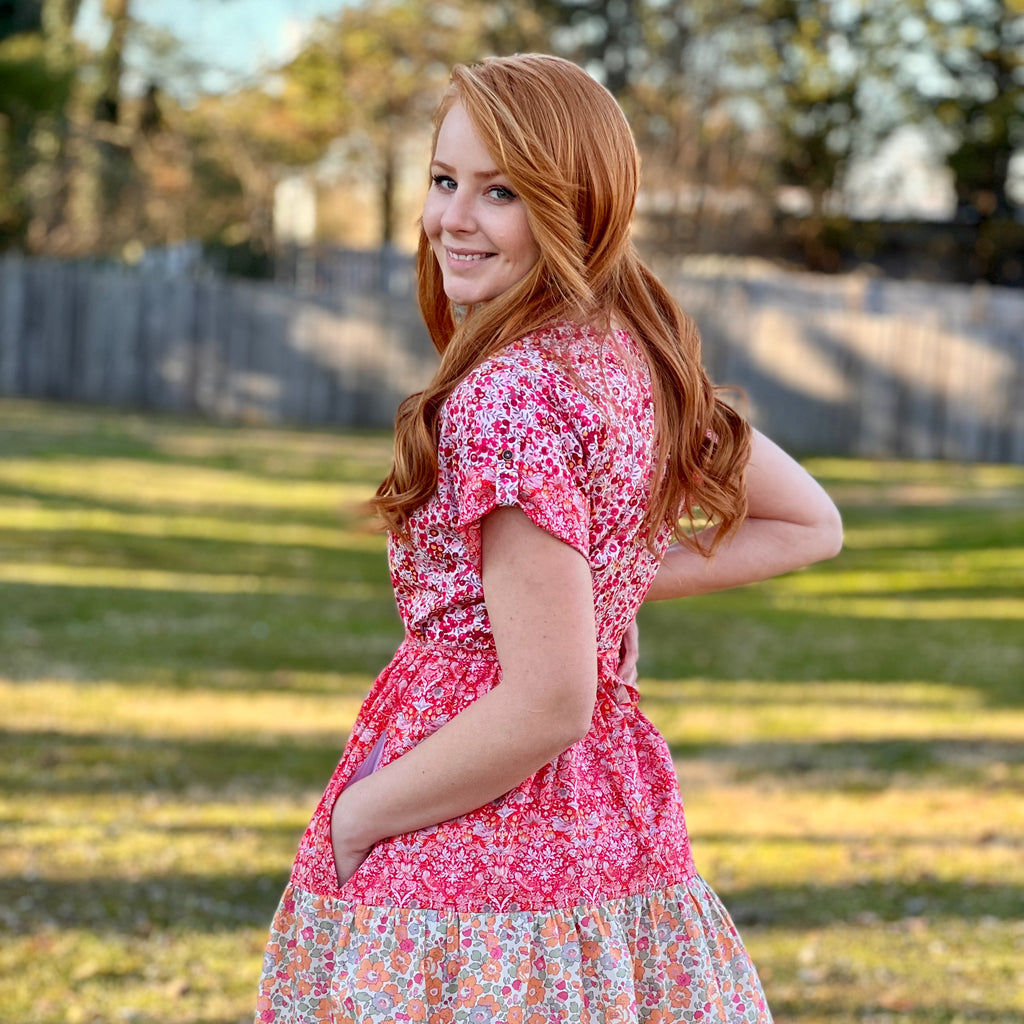 Hello DuckaDilly fanatics! It's Meredith, and I'm back with another DuckaDilly exclusive make. I cannot even tell you how excited I am to share this one with you because it features three of my favorite prints from the Jewel Box collection all together in a single garment! It is the outfit I am most excited to wear once the temperatures climb just a bit! I chose Wiltshire Ruby, Strawberry Thief Fire Opal, and Betsy Citrine to make this tiered dress.
Before I get into the details of the dress itself, I have to point out why I was so drawn to these prints. First, it was the Betsy Citrine which is the orange floral on the bottom tier. You see, Liberty does florals better than anyone out there. What DuckaDilly brings to the table with this collection totally elevates the prints because their coloring is simply divine. When I look at Liberty over the past decade or so, I find that they do a lot of pinks and a lot of blues. Oranges and greens are pretty lacking, but DuckaDilly filled this void in the best way. Even the pinks and blues in the Jewel Box collection are new and fresh and I cannot get enough of them. So the Betsy Citrine was my starting point because I simply fell in love with it.
Wanting to continue in a warm palette in the same-ish color family, but with different prints, I then chose Strawberry Thief Fire Opal and then the Wiltshire Ruby. Again, they are just very striking, and while they stand on their own wonderfully, I think the three of these prints go together so naturally.
The pattern I made is the Fringe Dress from Chalk and Notch. It is a great fitting dress, and I especially love the bodice. I did change the skirt so that it would be tiered, but I kept the original shape of the skirt on the top tier because it is just gathered enough. The whole dress is lined and has pockets, which I don't have to tell you are entirely essential.
The bodice of the dress features Wiltshire Ruby, but I made the sleeve cuffs with Strawberry Thief Fire Opal which is also the print on the top portion of the skirt. I wanted there to be as much continuity as possible and this seemed like a good way to achieve that.
If you wanted to copy this look, I highly recommend the Fringe Dress! It's a great way to showcase multiple favorite prints in the same garment. Another tiered dress that would work wonderfully is the Wilder Gown from Friday Pattern Company. Sometimes I have a pattern I want to make and then I'll choose fabric, but more often than not, I find a print or multiple prints that I love and I want to find a pattern that will showcase them well. This dress is a dream dress for sure. Its easy wear, and will make me feel like I'm wearing a sunny spring garden which is something that makes me happy!
I'd love to know your favorite combination of prints! Which Jewel Box print captures your heart?
Meredith
Olivia Jane Handcrafted