Behind the Design: Pecolla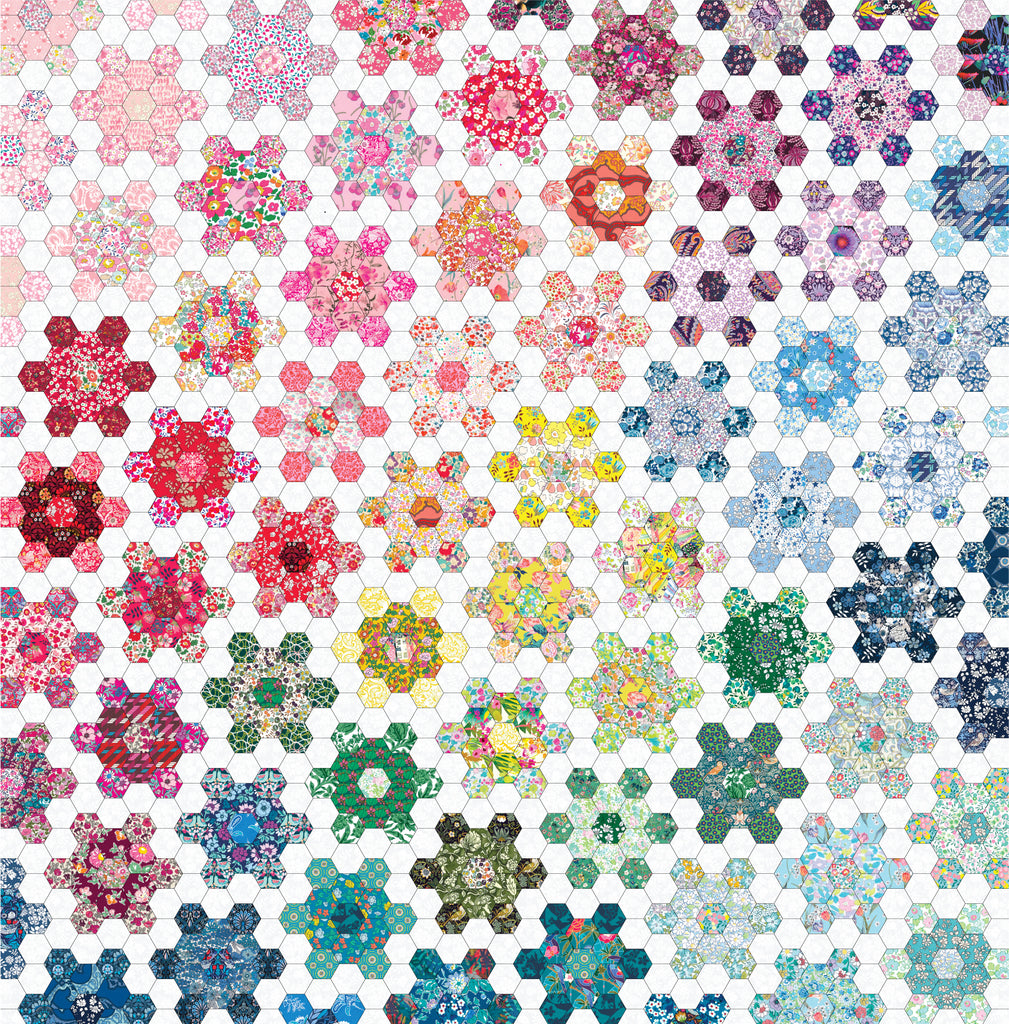 Welcome to Behind the Design! In this week's spotlight is Pecolla.  Pecolla features friendly hexie flowers (or Pecollas, as we've come to call them!), which are individually beautiful and collectively stunning. Pecolla is an easy, accessible, and fun way to explore Liberty through hexagons!
New to English Paper Piecing (EPP)? Want a low-stress, relaxing BOM experience? Pecolla is a perfect introduction to EPP but also great for more advanced quilters who appreciate the ease and satisfaction of working with hexagons.
Design Inspiration
Pecolla pays homage to a classic EPP hexagon quilt, Grandmother's Flower Garden. The basic geometry of hexagons makes them perfect for creating lovely flowers in quilts. Unlike the standard 6-petal flowers in Grandmother's Garden, Pecolla features a charming 12-petal design!
What's in a name? Leslie, the designer behind the quilt, coined the name "Pecolla" for the friendly, cheerful flowers in her quilt. After hours of scouring images of flowers online, it was evident that her 12-petal beauts were not garden variety. Instead, they were a perfect "peck" of different flowers, thus, Pecolla was born!
Who doesn't love a Liberty Rainbow? The diverse color palette of Pecolla allows you to reacquaint yourself with colors uncommon to your stash and delve deeper into those you know well. The fabrics making up the Pecolla flowers weave in and out of each other with no strict color boundaries. The visual interest provided by the colorful flowers is further accentuated by their staircase formation, rather than being stacked or offset.
While we love hexies in the Studio, one of the challenges of designing with hexagons is planning how to finish the quilt edges. For Pecolla, Leslie prioritized efficient use of fabric in the final design. You will notice this in the layout of flowers, where half (or parts) of flowers on one edge would make a reappearance on another edge.
Things to Love About Pecolla
EPP hexies are a joy to sew and one of Leslie's favorites! Working with a consistent shape when quilting is uncomplicated and relaxing. This allows you time to examine and appreciate each of the carefully curated Liberty fabrics. You might find surprises along the way, like colors and patterns you thought would not go together but actually do!  And, you might find new favorites to add to your growing stash.
Pecolla is wonderfully flexible and, above all, portable. Leslie sewed most of her EPP hexies while sitting on her front porch encased in Rose of Sharon bushes and the buzzing of bees, which felt "really perfect". Not only is Pecolla a breeze to transport, but you are afforded time to comfortably sew a bunch of hexies before having to focus on piecing them together.
Advice for Pecolla Enthusiasts
According to Leslie, prepping each of your 12 petal fabrics (whether into squares or hexagons) soon after you receive them really pays off. Leslie likes to repurpose to-go containers for temporary storage of her fabrics and hexagons at various stages of the process.
Glue or thread basting? Pecolla was Leslie's first experience with glue basting after a lifetime of thread basting. Both techniques have their advantages so try both and see which technique you prefer!
Favorite Element of Pecolla
Leslie loves the path around the Pecollas for its beauty, subtleness, and texture. The classic Edenham Shadow Pigment print in the background draws your eye around the flowers and adds extra depth to the vibrant, bright colors that make up the Pecolla flowers.
Ultimately, Leslie's favorite part of Pecolla is the time spent making it - setting aside quiet time to slow-stitch, enjoy fabrics, and smell the Pecollas.