DuckaDilly Downloads: A How-To Guide!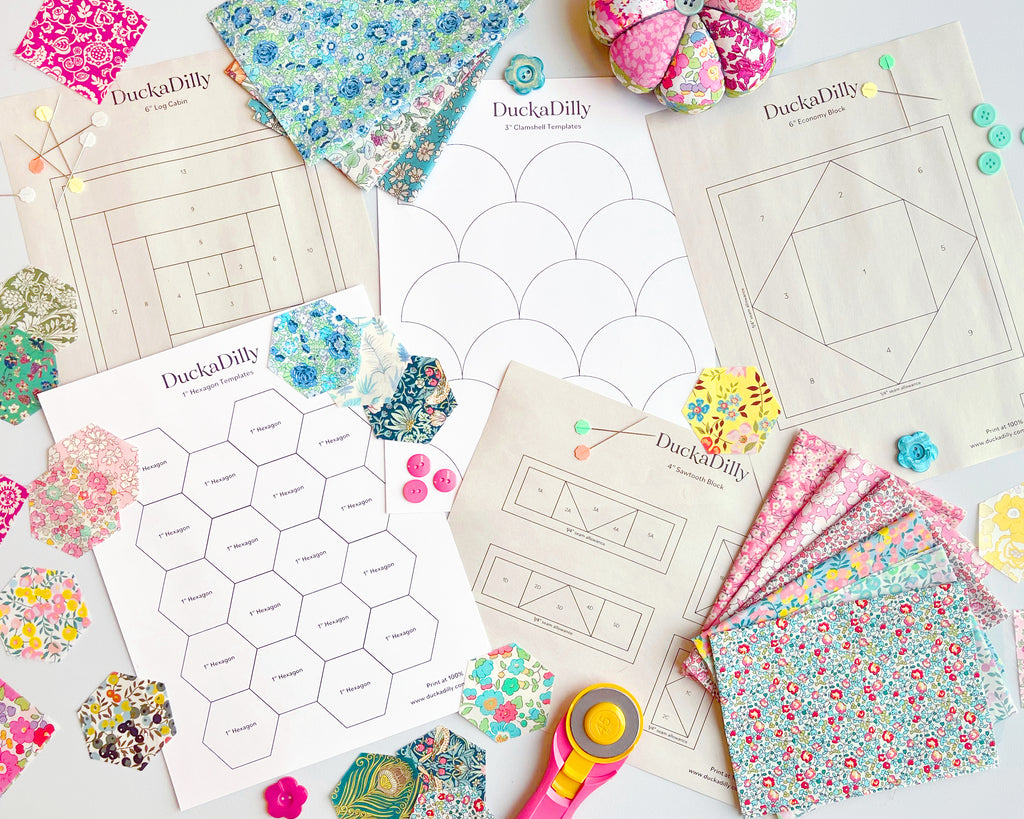 Our library of FREE 
DuckaDilly Downloads
is growing! Whether you are doing 
English Paper Piecing (EPP) or Foundation Paper Piecing (FPP) for the first time, looking for ways to refine your skills, or need some inspiration, DuckaDilly has a variety of fun templates to choose from. 
Many of these classic blocks and shapes have been featured in previous projects, and are favorites of ours here in the studio!
You might recognize the Sawtooth Block in DuckaDoodle: 


Or the EPP hexagons in Pecolla:


Others are entirely new to our DuckaDilly Downloads library, such as the Corner Beam, the Dutchman's Puzzle, and a whole flock of Flying Geese! 
 Our FPP and EPP templates are available in a wide range of shapes and sizes, so get creative with your scraps. We also have stash packs and curated bundles in a variety of beautiful prints, colors, and shapes to spark the imagination.
Let's get sewing!
How To Access DuckaDilly Downloads:
Access your DuckaDilly Downloads here. Below are instructions for accessing and printing the downloads from our website:
1)  Visit our website: https://www.duckadilly.com. To print Downloads, we recommend using a desktop or laptop computer.


2)  At the top of the page, you will see where to click to access our "Downloads".


3)  Look through our library of EPP and FPP templates. When you find something you like, click on the gold "Download" button under the image to open the file.


4)  The template you selected will open as a new tab in your browser and will be ready to print. To print the template, select the printer icon in the upper right hand corner of the page. 


5)  It is very important that you print your template at 100%! To do this, you may need to modify your scale in the Print window. Select the drop down arrow under the "Scale" option and select "Custom". Set your "Custom" scale to "100". 



6)  Before you print, make sure you have the right kind of paper for the template you are printing. 
For EPP templates, we recommend thicker paper or cardstock.
For FPP templates, our paper of choice is Carol Doaks FPP Paper, which is available for purchase here. You can also use tracing paper, drafting paper, or regular printer paper.
 
7)  Press "Print" and you should be ready to sew!

The DuckaDilly Downloads library is a great resource to try a new block, learn a different piecing technique, or try your hand at mixing-and-matching blocks using our thoughtfully curated stash packs and bundles. Let the adventure begin...