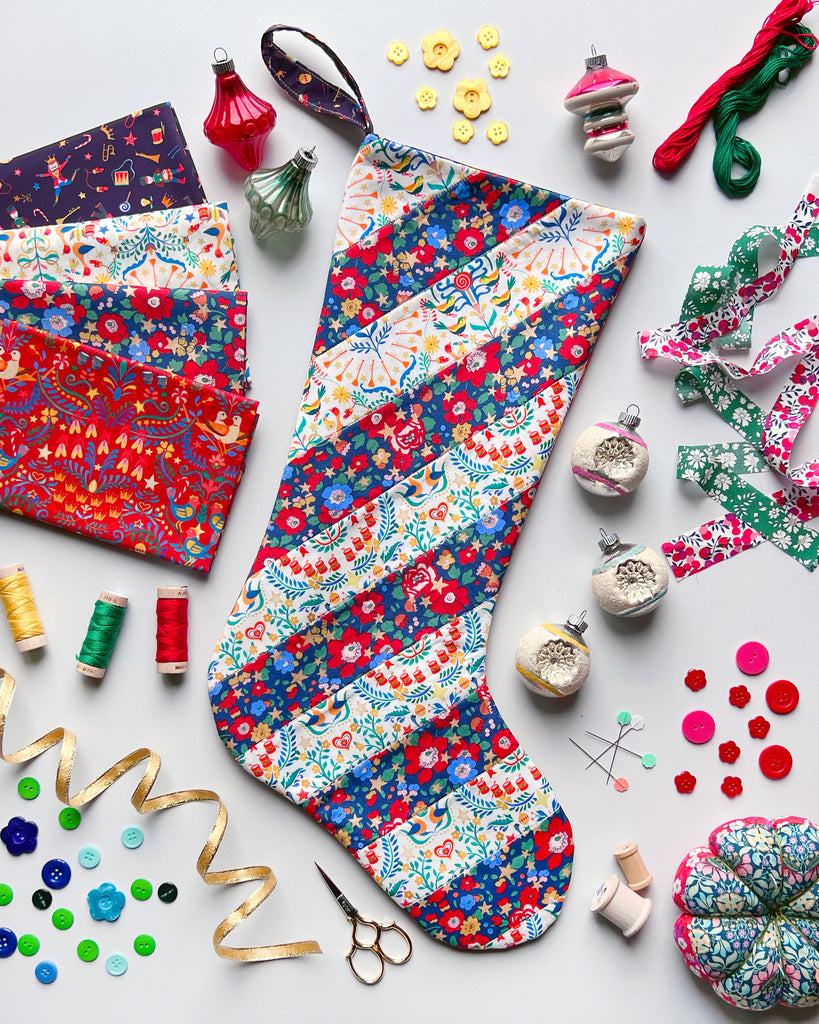 Time to get (Christmas) scrappy! The Striped Jingle Stocking is perfect for your holiday fabric stash and a wonderful introduction to Foundation Paper Piecing (FPP). Be creative... the results will be stunning!
Follow along as we guide you through the process of making a Jingle Stocking.  This cute Christmas stocking is beautiful on the inside and out, and is sure to please every member of your family. So, visit your fabric stash of Christmas' past or check out our Jingle Stocking Kits. The possibilities are endless and it's seriously so fun!
Finished Dimensions
13" x 22"
Fabric Requirements
Front fabric:  3" wide scraps, measuring at least 140" total
Back fabric:  14" x 24"
Lining fabric:  24" x 28"
Hanging loop fabric: 2-1/2" x 10"
Fusible Interfacing (we like Pellon SF 101):  2 1/2" x 10" 
Batting:  24" x 30" or 2 pieces that each measure about 15" x 24"
NOTE: Be mindful of directional prints when choosing your stocking fabrics.
Sewing Supplies and Notions
Iron and ironing board
Cutting mat and rotary cutter
Pins or Wonder Clips
Washable glue stick  ** We use Elmer's or Sewline
Scissors
Sewing machine and good needle  ** Schmetz Microtex 70/10 needles are our preferred sewing needles for Liberty Tana Lawn®
Good thread  ** We use polyester thread for this project and prefer Mettler or Güttermann.
Step by Step Instructions
Step 1:  Printing and Assembling Your Pattern

Visit our DuckaDilly Downloads page to print the Striped Jingle Stocking pattern. This FPP pattern is available in a right- or left-facing sock. The pattern should be printed at 100% scale. Print on regular printer paper or FPP paper for easier paper removal. Instructions for how to access and print our downloads are available on our blog.
Cut and assemble the pattern pieces using a washable glue stick.



Step 2:  Coming Up With A Design
Do you like traditional candy stripes or are you in the mood to get (Christmas) scrappy? No worries… you can have it all!
Traditional candy stripes require:
3" x 68 1/2" of your two stripe fabrics
If you would like a scrappier stocking, please refer to the table below to cut your stripes.
| | |
| --- | --- |
|  Stripe # | Strip Length Required (3" width) |
| | |
| 1 | 4" |
| 2 | 8" |
| 3 | 11 1/2" |
| 4 | 15 1/4" |
| 5 | 17 1/2" |
| 6 | 17" |
| 7 | 14 3/4" |
| 8 | 12 1/4" |
| 9 | 9 1/2" |
| 10 | 8 3/4" |
| 11 | 8 1/2" |
| 12 | 7 1/4" |

Step 3:  FPP your Stocking Front
When you have decided on your stripe layout, cut your strips and complete your stocking front using the FPP template. Begin at the top corner with Stripe 1.
If you are new to this technique or need a refresher, please visit here for a helpful tutorial.
Next, carefully with a rotary cutter, trim off the extra paper and fabric.



Step 4:  Cutting Your Stocking Fabrics and Removing Papers
Before removing the papers, use your completed front as a template to cut out the rest of your pattern pieces:
1 Back (mirrored from the front)
2 Linings (one facing each direction).
2 Batting pieces

Also cut:
(1) 2.5" x 10" rectangle in both fabric and interfacing, for hanging loop. For interfacing, we like Pellon SF 101.
Now it's time to remove the FPP paper! We have found it is easiest to remove the paper working from the top of the sock to the bottom. Start by creasing the paper towards the seam, then firmly press down on the seam and gently rip off the paper stripe. Be especially careful when ripping papers where the layers of your pattern overlap.
We'll now be finishing up our stockings using the same technique as the solid Jingle Stocking - our photos will show the steps using our solid Jingle Stocking sample.

Step 5:  Quilting Your Stocking
Pin the front and back pieces of your stocking (right side up) to your batting and quilt as desired.



Step 6:  Making Your Hanging Loop
Iron the fusible interfacing to the wrong side of your hanging loop fabric.
Fold in half lengthwise (right sides together) and sew a 1/4" seam.
Turn right side out, then press.
Top stitch on both edges, then trim to 9 1/2" long.

Step 7:  Sewing It All Together
a)  With right sides facing, sew your quilted front and back pieces together using a 5/8" seam allowance.
b)  With right sides facing, sew your lining pieces together using a 5/8" seam allowance, leaving a 4" opening along the bottom of the foot.


c) Trim the seam allowances on both the quilted stocking and lining.



d) Insert your quilted stocking (right sides facing out) into the lining (wrong sides facing out). The right sides of both socks will now touching.

e) Fold the hanging loop in half, matching up the raw ends.
Insert the loop (raw edges towards the top) between the two sock layers at the back seam near the heel. 
Pin the hanging loop centered on the back seam.


f) Pin around the rest of the top, making sure to line up seams.
g) Stitch around the top using a 1/2" seam allowance.
h) Locating the 4" opening in the lining, gently pull out the quilted sock.
i)  Top-stitch close the opening in the foot. Push the lining back into the stocking.
Voila! Now, get ready to make another Jingle Stocking! Want to change things up? Check out our blog post for a tutorial on how to make a solid Jingle Stocking.