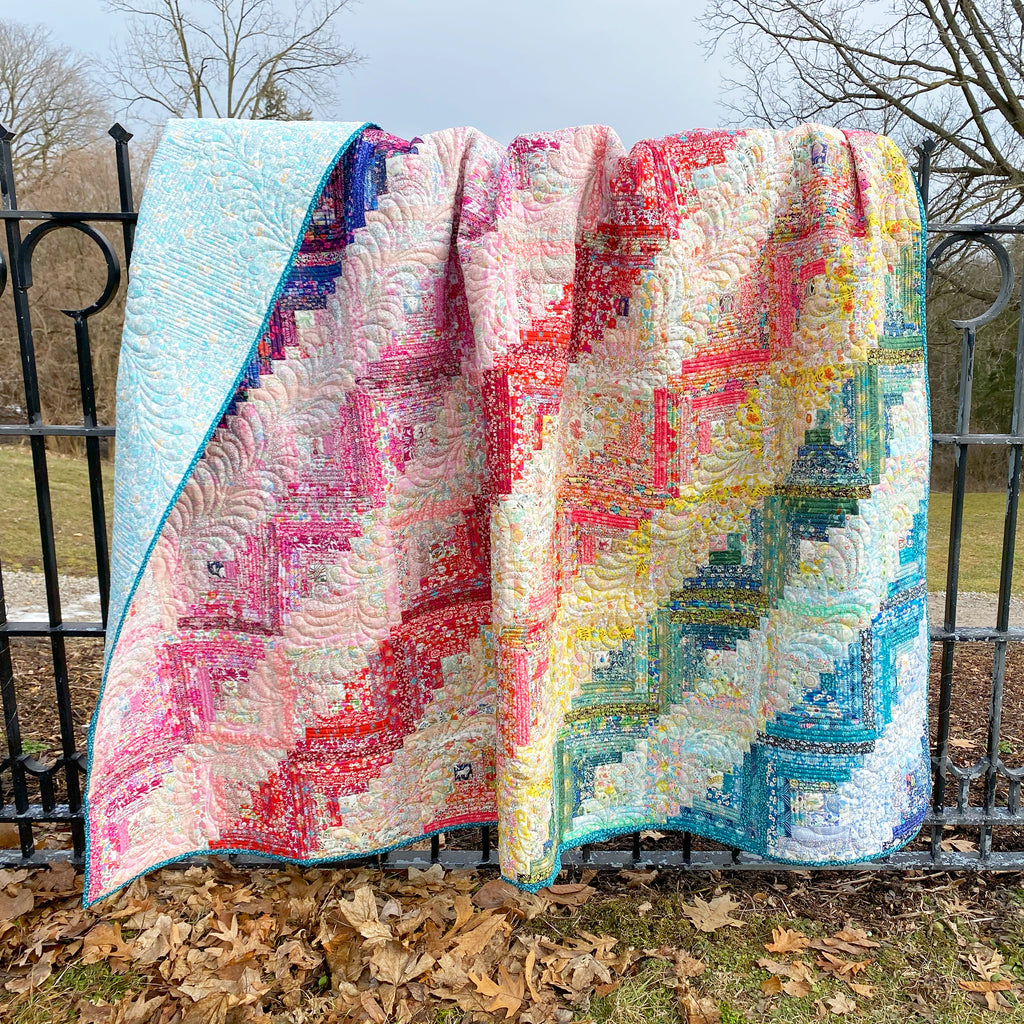 In an earlier time, in a softer light, the antics, imagination, and musings of one young girl ripple out to affect all of lives she touches. Inspired by one Miss Anne Shirley, we want to welcome you into a world of shared creation - one we are building together with you! 
As each log cabin block comes together, it is added to the story of your Green Gables quilt, with every fabric, log and center a unique part of the whole. Whether you are dreaming of the Lake of Shining Waters, or looking to sample some 'raspberry cordial' while you are sewing, we hope that working on your Green Gables quilt will be as lovely as a spring day in Avonlea. 


The idea for the Green Gables Quilt began with a block.  A log cabin block, to be specific. A simple shape, this concentric square block has been a favorite among quilters and artisans for the last 150 years, particularly throughout North America.  
Log cabin blocks are often designed with contrasting light and dark sides. Using this classic combination (but with a rainbow twist), we chose prints in the light and dark range for each color in the rainbow.
And nobody does a rainbow like Liberty.  
It quickly became clear how beautifully this layout would show-off and showcase a huge range of our favorite Liberty prints - the Queen Sized quilt has 100 blocks, and over 1500 "logs", not to mention the centers!  
And let's do mention the centers: fussy cut centers rule!  There is something so joyful and engaging about making each block totally unique by placing a little surprise or fun motif at its heart. 
For this quilt, we created Fussy Cutting Bundles, perfect for fussy cutting a special element in the heart of each block.
To help make block construction easier, we also created log cabin rulers! This is the first time we created our own tools and had them manufactured, which was both more challenging and rewarding than anticipated. So many details go into a great ruler, and discovering what did and didn't work helped us hone the entire process.
Our sample Green Gables quilt was stitched with Schmetz Microtex Sharp 70/10's, as well as Aurifil 50 wt thread. Its final layout was decided one sunny day in the studio on the floor, moving and arranging blocks to form the larger-than life rainbow. And I can't help but think that Anne Shirley would have loved to have helped.